Our Mission:
"We provide an environmentally friendly solution to the sewer and storm water collection problems that are faced by our aging infrastructure."
-Ron McNeil, founder
The Triplex Liner System manufactured by McNeil Technologies is a superior manhole, pump station and culvert cured-in-place rehabilitation system. Structure preparation and liner installation can be accomplished in a few hours. Triplex manhole liners carry an unprecedented unconditional warranty of 20 years. We are corporately based in Destin, Florida with manufacturing operations in Bonifay, Florida. The company and its authorized Licensees provide installations throughout North America and Australia. Our licensees typically provide free inspections and pricing for groups of structures, simply choose the structures you desire to rehabilitate and contact your local certified licensee to begin our pilot program.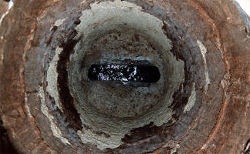 Severe corrosion and deterioration. This manhole is structurally unsound.
Complete restoration. Sewer manhole is now structurally sound and fresh groundwater is no longer leaking into the sewer.
Since the 1990s, we have led the effort to permanently restore thousands of underground water and sewer structures. We work closely with cities, counties and engineering firms to answer their water and sewer rehabilitation needs. Give us a call at 850.460.0474 or email us at info@triplexliners.com for more information.